Class C RVs provide new RVers with an ideal starting point, offering various floorplans, lengths and towing capacities to choose from. Capable of accommodating six people at once with storage, dining and entertainment amenities included in each model, Class Cs offer flexible solutions that suit novice RVers well.
RVs that fall between a Class A motorhome and camper van (Class B). Furthermore, these RVs typically get better gas mileage than most travel trailers.
Size of Class C RVs
Class C RVs fall somewhere in between Class A and B motorhomes when it comes to size, with less living space than an A but more than B campers. Don't let their smaller size fool you – these RVs offer plenty of amenities and sleeping space packed into their compact bodies.
Class C RVs feature a bedroom at the back, often with dinette or sofa beds that convert into sleeping areas. Most Class C motorhomes also include kitchen facilities including stove, sink and refrigerator as well as sometimes including washer and dryer functionality!
These vehicles typically rest on either a Ford E350 or Mercedes Sprinter cutaway van chassis and run on gasoline. As their engines are accessible through truck-like chassis designs, repairs and maintenance become simpler while their more robust truck powertrain can handle heavier loads than traditional RVs.
Sunliner Trex 6.5M/21ft RVs use slides to open up additional space, enabling them to accommodate a queen-sized bed in the bedroom and bunk beds above the driver's compartment. Furthermore, blackout roller shades have been installed throughout its lounge, dinette, and bedroom to increase privacy as well as LP gas detectors, smoke alarms and carbon monoxide alarms as well as child seat tether anchors.
Class C RVs boast more efficient powertrains, as well as many convenience features that make them attractive to many RVers. Some models feature keyless entry, power windows and doors, deluxe driver's seats and 9″ touchscreen CarPlay/Android radios equipped with USB and Bluetooth capabilities – these make them an attractive option.
Class C RVs boast numerous storage areas. The cab area can be an excellent place for camping gear and essentials while over-the-cab cabinets provide additional living room storage space. Some models even feature exterior storage compartments to store anything that doesn't belong in the living area.
Space of Class C RVs
Class C RVs are ideal for families traveling long distances. Offering more space than a camper van and fuel efficiency that surpasses that of Class A models, these easy-driving vehicles also come in various lengths and price points to find their ideal match in no time!
Class C motorhomes begin life as cutaway van chassis and feature living quarters built behind the driver compartment. They also boast an area that protrudes beyond the driver cab – commonly referred to as "cab-over". This section can often serve as additional sleeping space but more upscale models may offer storage or entertainment facilities in this feature area.
Class C RVs differ from camper vans with their unique cab-over feature, which allows them to sleep two people or more at any one time. Class B+ motorhomes may have similar structures but do not include sleeping areas for overnight travel. Most Class C RVs feature a cab over area that accommodates this sleeping capacity while still allowing users to quickly get on the road quickly and effortlessly.
Cab-over designs provide plenty of interior storage space that can be utilized for closets, wardrobes and other storage needs – essential when traveling long distances or living full time in an RV. In addition to interior storage spaces, Class C RVs typically include exterior compartments.
Class C RVs, built on truck or van chassis, boast greater maneuverability than larger RVs such as Class A. Their smaller sizes make them easier to fit into smaller gas stations and maneuver on narrower roads, making them the perfect option for beginners or those planning more off-the-beaten path adventures.
Class C RVs tend to be shorter than their Class A counterparts, making it easier for drivers at low speeds to spot hazards more clearly and providing mechanics with a familiar layout for maintenance and repair work. This feature can also increase safety.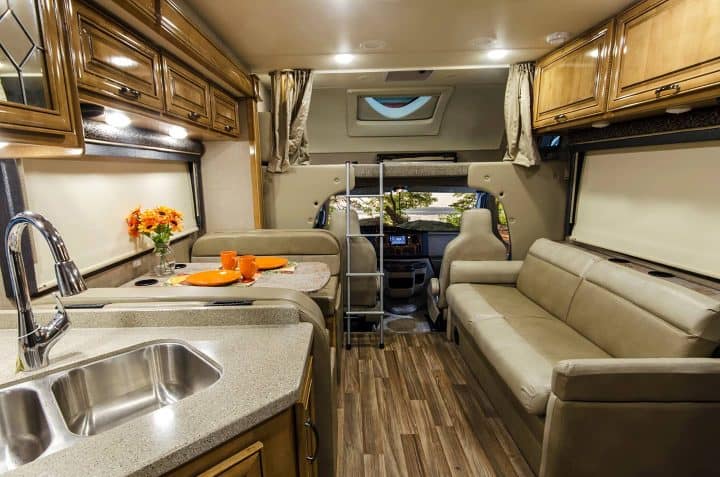 Towing Capacities Class C RV
Some Class C RVs can tow vehicles, making them suitable for hauling extra luggage or camping gear. Before considering this option, make sure that you understand its towing capacities; check your owner's manual or local dealer for this information if available.
Class C RVs' towing capacities are determined by their gross combined weight rating (GCWR), which takes into account both vehicle weight plus cargo or passengers inside, plus any hitch weight rating difference. To find your maximum towing weight for RV, subtract GCWR from hitch weight rating before adding all towed vehicle and tow dolly weight to determine how much can safely be toted behind it.
An important consideration when towing an RV is its Gross Carried Weight Rating, or GCWR. Some campgrounds and national parks have size restrictions; you need to ensure that your RV can support all the weight you intend to add over time.
Once you understand your Class C's towing capacities and the vehicle you intend on towing with it, the next step should be deciding which RV to purchase. Some manufacturers offer multiple Class C RV models so you can select one best suited to your family's needs – look for an open floorplan RV with plenty of storage space, or one equipped with slide outs if you prefer more living room.
Class C RVs are ideal for families traveling with their kids. Most can tow a vehicle, enabling everyone to access sightseeing or shopping opportunities when you take a break from driving. Renting one while on vacation can also help increase your sightseeing opportunities across the country.
Planning ahead for any vacation can make all the difference in making it truly enjoyable. Although towing can be challenging, with proper preparation you won't encounter any problems taking along your favorite people and pets for the journey.
Financing Class C RV
RVs are expensive purchases that require careful financial consideration before purchase. A major component of that is selecting financing you can afford and structuring it accordingly. There are various lenders offering RV loan programs; each lender may have their own standards for approval and interest rate rates that should be taken into account when searching for the ideal lender for you and your specific circumstances and needs. It is wise to do your research prior to making this important decision.
Credit unions, banks and companies specializing in vehicle financing typically offer RV loans. Because consumer vehicle loans are secured debts backed by your RV itself if you default on payments, qualifying is usually easier for these types of loans; however it's always wise to shop around before selecting one program over another.
Some lenders also offer unsecured RV loans that don't require you to put up your camper as collateral, which are riskier for lenders and may come with higher interest rates. When taking such an approach it's important to carefully consider if taking such risks is acceptable to you and make sure that you can afford monthly payments without straining yourself financially.
Before choosing a lender, be sure to review all fees and charges so that you are sure you can afford to purchase an RV at full price.
One of the primary mistakes RV buyers make is shopping for an RV prior to looking for loan options, setting themselves up with unrealistic expectations of what their budget can accommodate, leading to disappointment and regret later down the line. Before shopping for an RV, ideally first visit multiple dealers before searching out possible loan providers based on what your options may be.
Consult with a financial planner in order to accurately calculate what you can comfortably afford as an RV loan payment. Be sure to factor in both fixed costs like housing and utility payments, and variable expenses like dining out and traveling when making this determination.