Specializing in Nationwide Online RV Sales
Pre-Trip Inspection
LP leak inspection
Check generator performance
Inspect wiper/washer system
Visual inspection of belts and hoses
Service all gas appliances and components
Check all charging systems and batteries
Inspect exterior lighting
Check and set tire pressure
Top off all fluids and battery cell levels
Check roof a/c filter
Call for pricing.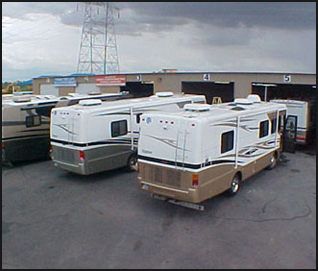 Systems Check and Safety Inspection
Perform safety inspection
Perform LPG leak detection test
Check all 12v and 110v systems
Check all plumbing
Check all appliances for functionality
Check all brakes, if trailer adjust brakes
Set tire pressure to manufacturer's specs
Service refrigerator and water heater burner chamber
Check trailer lights and inspect tow plugs
Inspect roof for leaks and check seals
Check and record temperature of air conditioning systems
Prepare list for customer of recommended repairs and discuss repairs with customer
Call for pricing.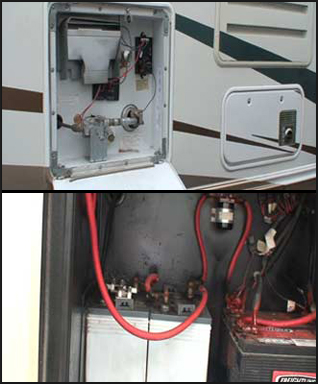 Generator Service
Change oil
Change filter
Change plugs
Change air filter
Inspect exhaust system
Adjust for efficient running
Call for pricing.
Note: Gas only—parts not included.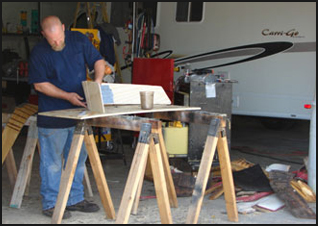 Lube, Oil and Filter
LOF Gas (lube oil & filter) + 32 Point Inspection
Call for pricing. (oil & filter included)
LOF Diesel (lube oil & filter) + 32 Point Inspection
Call for pricing. (oil & filter included, up to 38qts of oil)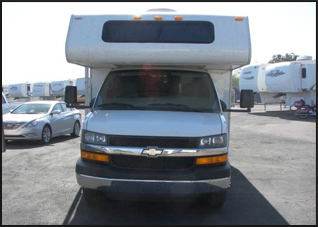 Appliance Service (Water Heater, Refer, Furnace, Roof A/C
Clean all burner assemblies
LP leak check
Flush water heater
Clean A/C filters
Check all appliances for proper operation
Call for pricing.
(Refrigerator, Furnace, Roof Air Conditioner, Water Heater)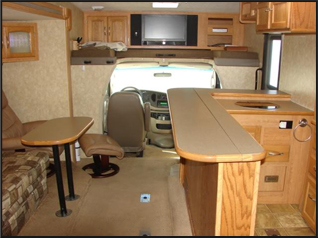 Roof Reseal (does not include sealant)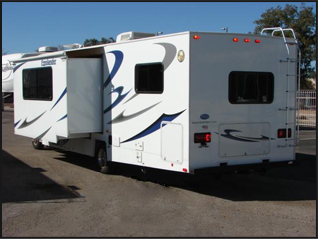 Trailer Wheel Bearing Pack
Clean and inspect electric brakes
Clean and inspect wheel bearings
Replace wheel seals (price does not include seals)
Call for pricing.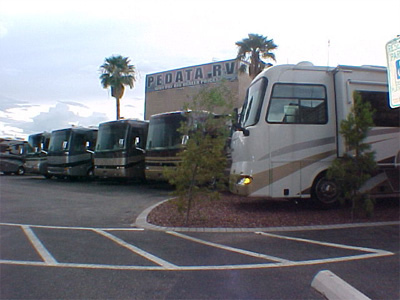 Collision Repair
Free estimates
Insurance Accepted
Fiberglass/plastic and metal repairs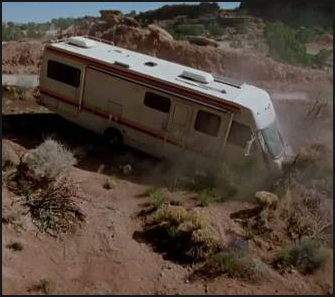 ---
Don't Make a $10,000 Mistake Shopping Elsewhere on Your Next RV
If you let Pedata take care of your RV sale, you'll save as much as $10,000 or more. Whether you're new to RV sales or you're ready to buy and are just looking for the best used motorhome you can find, you can stop your search here. Pedata RV Center is ready to assist you. When it comes to an RV for sale, we are the experts and we want you to walk away satisfied with your purchase and your experience!
Pedata RV works very hard to make sure all the information provided on this website is accurate; however, different products, descriptions, promotion programs and services may change at any time from those listed on this site. All advertised promotional discounted rates and payments can change without notice, and applicants must be accepted by the funding bank, which typically includes, but is not limited to, high scores, debt to income ratio, down payment and loan value. All of our prices listed on this site are subject to change without notice, and do not include tax and other applicable fees. All technical data, product information, program information, photographs and illustrations are intended to be useful information available to Pedata RV at the time of posting, and are subject to change without notice. The RVs on this site may be staged with various props for display purposes only that may not be included with the purchase.
To verify current information, call us toll free at
888-973-3282
or
520-623-6387

HOME OF THE LIVE VIRTUAL TOUR
Be sure, be safe! Schedule your
virtual tour today.

Skip to content