Specializing in Nationwide Online RV Sales
McKowen – All the Way from New Zealand
Ditmers – First Time Buying Over the Internet and "Everything Ran Ticketee Smooth"
Dements – Looked from Texas to Maine to Oregon
---
Pedata RV Testimonials Continued
Long distance RV purchase
I just wanted to thank you for everything leading to the purchase of our Safari Gazelle. We were a little leary of buying a motorhome on the internet from a company we had never heard of and in another state. But you did a super job and upon Dave's arrival we found your honesty in everything you had told us about the RV. Thank you for that. We would highly recommend you as a salesman and Pedata rv center as a dealership to anyone wanting an honest deal on an RV. The Gazelle is just gorgeous and we can hardly wait to take our first trip!
It was a pleasure doing business with you and thank you for everything you did for us. You made it happen!
Have a great day!
Linda F.
Bailey, Colorado
Brent and Nancy appreciate a no hassle approach
Your
whole staff is professional & helpful. (thank you for the)
no hassle salesperson. We appreciate the no 'games' sales
approach.
Brent
& Nancy Fletcher
Bill and Linda were unsure buying over the internet
Considering
that we bought over the internet our risks were high, but
Pedata served us very well, repaired all faulty components
without question. Very satisfied with our puchase – many
thanks to all involved!
Bill &
Linda Carr
A Canadian customer recieved assistance with delivery
Once
again, we would like to thank you and you staff for the
service we received not only at the time of purchase but
when you referred us to (an associate) for help, well after
your involvement with us had end.
L. Becker
(Canada)
Doing business with a Man's word
I would like to "Thank You" for helping with the transfer of the funds from the sell of my motor home. Everything went as you said.
It's nice to be able to do business with a Man's word. In todays world that is hard to find. Your honesty and word will not be forgotten.
Thanks again…
Dave
& Cathy
After shopping "all over the place"
I looked
all over the place for a deal on an RV. When I finally
checked out Pedata RV's, I found the RV and the sales/service
people to be the best in the area. You don't have to go
anywhere else to get the deal of a lifetime!
Harrold Atterberry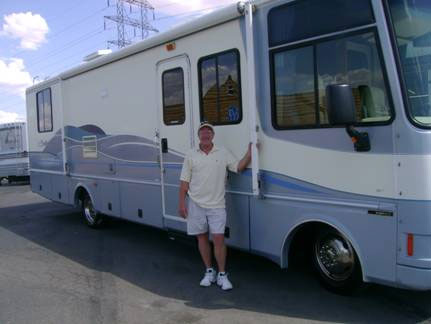 From Tucson to Nashville to Michigan and beyond
We are finally home from our round a bout visit to Tucson. We had a memorable trip and enjoyed everything.. Thank you so much for your part in making the purchase of our motor home a delightful one. We are really enjoying it and expect to be for many years to come. After leaving Tucson, we stopped along the way including three days in Nashville and then two weeks with our daughter in Michigan..Everyone loves the motor home and you're right, it turns a lot of heads. Again, our thanks to all of you. I'm including a picture of our new van.. Anyone would think that we like blue.
Respectfully,
Nina and Bob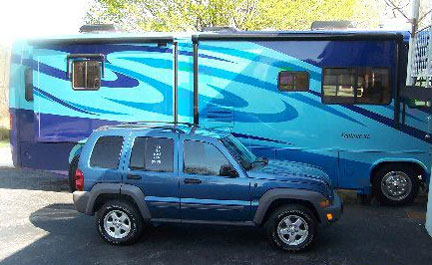 Dale And Susan Chester Proud Owners Of A New Monaco Windsor
It was
a great experience and the people were very helpful. It
was worth flying 1600 miles to buy it!
Dale and Susan Chester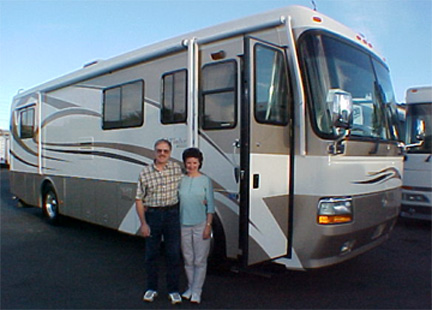 Photos sell an RV
The
pictures of the coach "sold" it and the staff was the best!
Could not be better!
Noble
Hower
From shopping online to talking to Pedata RV
Thank
you. Your company was outstanding. From the very start
of my first on line search. And then when i was contacted
by Sergio.
Sincerely,
Janet
Glenn
Richard and Betty Happy and Enjoying the Road
We would
like at this time, to thank Pedata RV for the best service & attention
we have received in all our RV purchases & needs. It
was very pleasurable to do business with Pedata RV. We
were very happy when looking for a unit with Bob Sutherland & Jerry.
There was absolutely no pressure while we were looking
at units. They took all the time that it took to allow
us to check out whatever units we wanted to look at in
detail etc. They were all very professional both in sales & book
keeping. They took care of our requests & needs, right
down scouting down an extra set of keys for our unit. The
walk through with Jeff was also very well done right to
the last detail. We are extremely very happy with everything,
especially with our unit. We would not only go back when
we are ready to trade our unit in the future, but would
highly recommend Pedata RV to anyone that may be interested
in purchasing a motorhome from Pedata RV. Again thank you
all for making our purchasing of our Monarch Monaco motorhome
such an enjoyable experience. Keep up the good work. Thank
you.
Sincerely Yours,
Richard
Bilodeau & Betty Dutton
Monaco Signature Finds A New Home With Tom Elmore's Family
Thanks
again guys! We are VERY happy with our Monaco and loudly
tell everyone that we got her from you. Thought you might
like to see her 2 months later. We had a nice day so we
brought her out of the garage and took her for a ride.
Again, thanks for everything!

Tom Elmore
G.F. Riggle Purchased A Fleetwood RV
To Whom
It May Concern,
Ten days
ago I was lost looking for an RV dealership. I ran into
a mobile home dealer and two nice ladies told me to check
out Pedata RV First. They drew me a map and even escorted
me tot he dealership. When we got there she introduced
me tot he manager and one of his sales reps. The rest was
history! I believe this was a godsend. I was in an emergency
situation and not only did they save me $7000 compared
to some other quotes i received, they treated me with the
upmost respect. Thank God for this accidental assurance!
G.F. Riggle
Joseph Valerio – Best Service Around
…I
purchased a 1996 Holiday Rambler from your sales facility.
I am sending you this letter to extend my gratitude and
appreciation. My purchasing experience was extremely fast
and easy. I had found the RV that I was interested in via
your website, and when I went to your dealership the salesman
knew exactly the RV I was interested in. He showed me the
RV and a couple of others. He was extremely knowledgeable
and answered any questions that I had. That day I test
drove my RV, however it was near the end of the day. I
agreed to purchase the RV during my test drive and by the
time we got back to the dealership my papers were ready
to sign. Your finance officer was very helpful in our purchase
and made for a speed sign.
I would especially like to commend your service department
with particular attention to Ted Higuera. When my RV was ready
for me to pick up, Ted went over every aspect of the RV and
its operations with me. There were a few minor details that
needed to be remedied on my RV; Ted kept me well informed of
everything that was going on. In my opinion, Mr. Higuera went
above and beyond to ensure my satisfaction. Mr. Higuera displays
an utmost professionalism with personal detail in regards to
customer satisfaction. I am so please with the attention and
detail from your service department, that it prompted me to
send this letter.
I will highly recommend your facility to anyone that I may
come across who is interested in purchasing an RV. I will especially
recommend your service department to anyone in need of repairs
for their RV.
My purchase with Pedata RV was a most pleasurable experience.
Thank you once again.
Sincerely Yours,
Joseph A.
Valerio
---
Don't Make a $10,000 Mistake Shopping Elsewhere on Your Next RV
If you let Pedata take care of your RV sale, you'll save as much as $10,000 or more. Whether you're new to RV sales or you're ready to buy and are just looking for the best used motorhome you can find, you can stop your search here. Pedata RV Center is ready to assist you. When it comes to an RV for sale, we are the experts and we want you to walk away satisfied with your purchase and your experience!
Pedata RV works very hard to make sure all the information provided on this website is accurate; however, different products, descriptions, promotion programs and services may change at any time from those listed on this site. All advertised promotional discounted rates and payments can change without notice, and applicants must be accepted by the funding bank, which typically includes, but is not limited to, high scores, debt to income ratio, down payment and loan value. All of our prices listed on this site are subject to change without notice, and do not include tax and other applicable fees. All technical data, product information, program information, photographs and illustrations are intended to be useful information available to Pedata RV at the time of posting, and are subject to change without notice. The RVs on this site may be staged with various props for display purposes only that may not be included with the purchase.
To verify current information, call us toll free at
888-973-3282
or
520-623-6387

HOME OF THE LIVE VIRTUAL TOUR
Be sure, be safe! Schedule your
virtual tour today.

Skip to content