Specializing in Nationwide Online RV Sales
Join the Adventure of RVing With Our Affordable RV Rentals
RV Rentals – You don't need to own a recreational vehicle to enjoy recreational travel! Each year, thousands of Americans enjoy the comfortable convenience and spontaneous adventure of recreational travel by renting a travel trailer, toy hauler, and so on. With the help of Pedata, you can find the perfect RV rentals in Tucson, AZ. Although we're based in Arizona, our website allows you to learn all about the motorhome and RV rentals we have online without the hassle of coming in to the showroom.
RV renting is a great option for those who love recreational vehicle travel but don't want the financial commitment of owning a recreational vehicle, or for those who are considering purchasing a travel trailer, toy hauler, and so on, and want to make sure it's for them. RV renting is also a great option for those who have decided to buy, because you can go through a trial run in one or several models to determine which travel trailer or toy hauler is best-suited to your particular needs.
RV Rentals – What it Takes to Rent
All rental dealers require that recreational vehicle renters have a valid driver's license and a major credit card as a security deposit before a reservation can be made. Minimum driver age varies with each rental dealer. Before you rent, check with your automobile insurance carrier to see if a recreational vehicle rental is covered under your current policy. When planning your next vacation, select a beautiful recreational vehicle online from Pedata RV rentals in Arizona.
Check Out Pedata's RV Rental Rates
Low Season Rates (Sept 1st to May 31st)
| Trailer | Size | 1wk | 2wk | 1mo |
| --- | --- | --- | --- | --- |
| Stealth 2414G w/GEN | 27′ | $750 | $1,358 | $2,065 |
| Springdale 260 | 29′ | $600 | $1,086 | $1,651 |
| Shasta Oasis 25RS | 28′ | $582 | $1,054 | $1,603 |
| Shasta Oasis 18BH | 21′ | $525 | $950 | $1,444 |
High Season Rates (June 1st to August 31st)
| Trailer | Size | 1wk | 2wk | 1mo |
| --- | --- | --- | --- | --- |
| Stealth 2414G w/GEN | 27′ | $775 | $1,403 | $2,133 |
| Springdale 260 | 29′ | $625 | $1,131 | $1,720 |
| Shasta Oasis 25RS | 28′ | $600 | $1,086 | $1,651 |
| Shasta Oasis 18BH | 21′ | $550 | $996 | $1,514 |
Trailer Diagrams:
Here's All you Need in Order to Rent from Us
In order to rent a recreational vehicle from Pedata, there are only a few requirements to meet. Once these are in place, it's time to pick out an RV and get on the road!
A valid driver's license to assure that you will be driving the RV legally
A major credit card as a security deposit
Your vehicle insurance coverage must cover towables
You must meet the minimum age standard
Must meet all the requirements of the "Terms for RV Rental" (see below)
How to Reserve your Rental RV
If you are planning a trip and would like to reserve an RV, it's a good idea to make your reservation at least 30 days in advance. This will give you a much better selection to choose from. You will need a major credit card. At Pedata we accept Visa, MasterCard, American Express and Discover. For your convenience, rental reservations can be made online.
Pedata Terms for RV Rental
The following terms are to be observed and adhered to the entire duration that a recreational vehicle is in the possession of the renter:
The renter/driver must be at least 25 years old. Anyone younger will not be permitted to operate or tow the vehicle.
Any listed driver of the rental RV must have a valid driver's license and proof of insurance.
The renter must understand that NO PETS are allowed in the rental RV.
There is no refund or credit issued for any unused rental time.
There is NO SMOKING allowed in any of the rental RVs.
There is no sitting or standing allowed on the roof of the rental RV.
There is no towing of any kind allowed unless permission has been granted by Pedata RV Center.
Damage and Cleaning Deposit Requirement
We are happy to have you enjoy one of our units, and we ask that you respect it as though it were yours. Please bring the unit back in the condition it was in when you rented it. For our protection, a security deposit in the amount of $1,000 will be collected when the unit is rented. It will be charged to a major credit card and will be fully refunded within 10 working days from the time of the rental return, assuming no damage or cleaning fees are deducted.
Sanitation Fee
There is a $60 sanitation fee charged for each recreational vehicle we rent. This covers the flushing, recharging and cleansing of the sewage system, as well as the sanitation of the bathroom fixtures and the washing and detailing of the vehicle's exterior.
Required Brakes for RV Rentals
As a safety measure, we require that all rental and towing units be equipped with an electronic braking system. Our service department can install the system for you at a preferred customer discount, or you can have it done elsewhere. If the size of the trailer and the towing capacity of your truck warrants it, you may be required to utilize a sway bar control.
Disclaimer
The price and availability of our RV rentals are subject to change without notice.
Online Rental Application
---
– Additional Information –
a) The person named on the RV rental application is the only individual authorized to sign the actual rental agreement, unless other arrangements have been made with Pedata RV Center. Any additional drivers must be at least 25 years old, and have a clean driving record and a valid driver's license. They must be present at the time the rental unit is picked up.
b) Unless otherwise stipulated by Pedata RV Center, the person whose name appears on the rental agreement is the only individual authorized to operate the vehicle.
c) In the event that the vehicle you have reserved becomes unavailable, Pedata reserves the right to substitute the rental unit with another unit of equal or greater value, or issue a refund of the rental deposit and cancel or postpone the reservation.
d) In the event that the rental RV is returned before the end of the rental period, there will be no refund or credit issued
e) There are no pets allowed in the rental RV.
f) There is no smoking allowed in the rental RV.
g) Towing of any kind will require a fee of $19.95 per day, and must be approved by Pedata RV Center before the pick up date.
h) In most cases, rental RVs will not be ready for pick up before 1:00 PM. Early pick ups can be arranged, but must be agreed on 3-5 days before the pick up date. Call Pedata before your departure date to assure that it is ready for early pick up.
i) Rentals must be picked up or returned during business hours Monday through Friday from 8:00 AM to 4:00 PM. Please keep in mind that we are closed on Saturdays and Sundays.
j) To avoid late fees, please return your rental RV by 11:00 AM on the date that it is due back.
k) If the balance due on the rental unit is paid using a check (business or personal), please be sure that it is issued at least three business days before the rental unit is to be picked up. Please be aware that we accept no out of state checks.
l) Our rental units do not come with dishes or linens unless previously arranged when the reservation was made. Our "Go Packs" include pots, pans, dishes, utensils, linens, and towels, and can be rented for $99.
n) Televisions can be rented for $19.95 per week.
o) If you prefer that Pedata RV Center take care of the light cleaning after your rental is returned, you will be charged a fee of $35. If the cleaning is more extensive than what is considered routine, you will be charged extra fees.
*All rental agreements are subject to the terms and conditions listed in the rental contract
Available Types
---
STEALTH 2414G 27′ TOY HAULER w/GENERATOR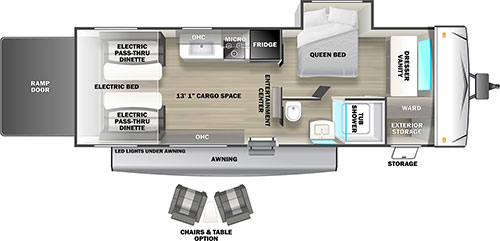 ---
SPRINGDALE 260 29′ TRAVEL TRAILER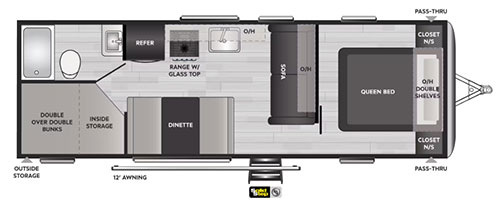 ---
SHASTA OASIS 21′ 9″ 18BH TRAVEL TRAILER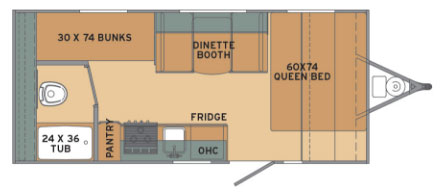 ---
SHASTA OASIS 28′ 11″ 25RS TRAVEL TRAILER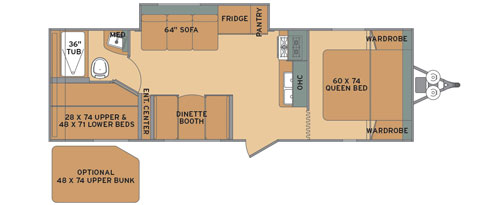 ---
Don't Make a $10,000 Mistake Shopping Elsewhere on Your Next RV
If you let Pedata take care of your RV sale, you'll save as much as $10,000 or more. Whether you're new to RV sales or you're ready to buy and are just looking for the best used motorhome you can find, you can stop your search here. Pedata RV Center is ready to assist you. When it comes to an RV for sale, we are the experts and we want you to walk away satisfied with your purchase and your experience!
Pedata RV works very hard to make sure all the information provided on this website is accurate; however, different products, descriptions, promotion programs and services may change at any time from those listed on this site. All advertised promotional discounted rates and payments can change without notice, and applicants must be accepted by the funding bank, which typically includes, but is not limited to, high scores, debt to income ratio, down payment and loan value. All of our prices listed on this site are subject to change without notice, and do not include tax and other applicable fees. All technical data, product information, program information, photographs and illustrations are intended to be useful information available to Pedata RV at the time of posting, and are subject to change without notice. The RVs on this site may be staged with various props for display purposes only that may not be included with the purchase.
To verify current information, call us toll free at
888-973-3282
or
520-623-6387

HOME OF THE LIVE VIRTUAL TOUR
Be sure, be safe! Schedule your
virtual tour today.

Skip to content