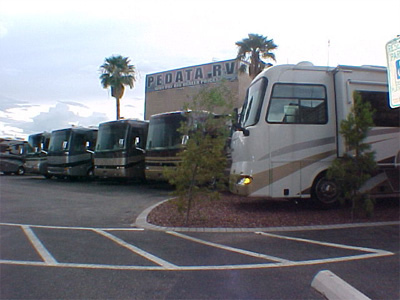 When you think of an RV wholesaler what comes to mind? Do you think that you will have to buy the RVs in lots of a dozen or more like at the local warehouse? This is not the case, as you probably have already guessed. A wholesale RV dealership is one that works directly with an RV company or manufacturer to get the best deals for their customers. You may wonder whether these are the same RVs that are sold at other dealerships at higher prices. Yes, they are. An RV wholesaler can help you to custom design the perfect RV to fit your lifestyle and your budget. Pedata RV Center is a wholesaler of the Holiday Rambler line. Holiday Rambler is a premier RV company with some of the most innovative and stunning RV products on the market today.
As a RV wholesaler for Holiday Rambler, Pedata offers the complete line of Ramblers from the towables to the motor coaches. There are 8 full size motor coaches-some gas powered others diesel powered, and one mini motor home in the motorized styles and 6 towable models including travel trailers and fifth wheels. Each has features that make it unique and suitable for the differing needs of the consumers.
Visiting an RV wholesaler you will be amazed at the prices you will see. You can save thousands of dollars by buying from this type of dealer as opposed to a regular RV retailer that adds to the price in order to add to their bottom line and then you as the seller, have to haggle for every penny that you want subtracted from the price. They may even make you feel like they are doing you a favor by even considering your offers. At an RV wholesaler like Pedata, you will be shown the MSRP (manufacturer's suggested retail price) and then you will see the price that they are offering to you. It may be as much as $10,000 less or maybe even more depending on the model you are looking at.
You can also get great financing deals at an RV wholesaler. They have connections with many lenders that have products designed specifically for the RV buyer. Not like a bank or credit union that can only offer you products like a home equity loan or short term loan. These loans have flexible financing terms of 3 to 10 plus years or any other length of time that you are interested in. The interest rates are competitive.
If you are still not sure that you want to buy a new recreational vehicle from an RV wholesaler, then you should look at their pre-owned inventory. When people come to replace their former RV with a new model they often trade it in or sell in on consignment through the dealer. You can find some beautifully maintained low mileage RVs from some of the industry leaders at great prices. Either way, an RV wholesaler can save you time and money by keeping you from visiting those other dealers.
The word "wholesale" is often equated with value. When you buy any RV at a wholesale price you are getting value. But the best values come when you buy the best quality RV at the lowest price on the market. Don't waste your time looking at retailers who offer deals of "below the MSRP." You can do better. Then you can use your hard earned money on the things that really matter like vacations to the mountains or that trip to the NASCAR rally. You will be glad that you decided to go for "value" and "wholesale" when you sit behind the wheel.