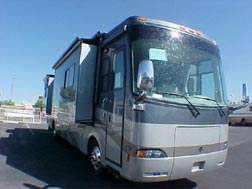 There are quite a few different kinds, or classes, of motor homes. The recreational vehicle class is separated, basically based on size and structure. The class A motor home is the largest and typically the most luxurious type of recreational vehicle around. There are several fun and interesting characteristics that make a class A motor home stand out above the other motor home classes.
A class A motor home is large, like a bus – The typical size of a motor home that is class A is in the range from 24ft-40ft long. This gives ample room in the living area, the driving area, the sleeping area, and even in the bathroom area. The shape of this recreational vehicle is similar to that of a bus. The front of the RV is flat with a large vertical window. This is in stark contrast to other motor home class shapes, where some look like a U-Haul van or van conversion, where there is a top extending over the cab and others are pulled behind a truck or van looking more like a trailer. This class A recreational vehicle is fit to be more of a "home away from home" for anyone looking for a full time life on the road or just weekend vacation getaways.
A class A motor home can sleep up to 6+ people-depending on the model – The class A motor home can sleep anywhere from 1 to even 8 people comfortably. Of course, this all depends on the model of class A motor home you choose to buy. There are a lot of different makes and models in existence, each with its own variety of floor plans. Consult a full service RV wholesaler, such as Pedata RV Center, to help you find the perfect model to match your needs and RVing desires. Oftentimes, you can find a basic class A motor home that has a slide room to give extra space (usually up to one meter) for sleeping (or dining). Although you can find the slide-out option on most classes, having an expanded space on an already spacious home makes it all a little bit better!
Dream in luxury, drive with style – The class A recreational vehicle can fulfill all of your luxury home necessities, as well as prove to be the smoothest ride around.
LUXURY: Do you want marble in the bathroom? Do you want rustic tiling in the kitchen? Do want heaters in the captain chairs or double glazed windows when it snows? Do you dream of state of the art technology in your motor home? Do you simply want over the top safety amenities for you and your traveling family? The class A motor home can offer all of this to you.
SMOOTHEST RIDE: In general, once a class A motor home is fully loaded and balanced it will provide a smooth ride for both the driver and the passengers. The weight of the RV, along with the axle and motor (regular and diesel pusher), are solid features to help you have the smoothest road experience you could have.
The class A recreational vehicle has a wide arrange of prices. First of all, this depends on whether you are in the market for a new or a used recreational vehicle. Secondly, the more amenities and luxuries you have included in your purchase, the more expensive it can be. Last of all, the size, model, and manufacturer of the RV can have an influence on the basic RV class A price.
If you decide the class A RV is the type for you, contact a trustworthy full-service center, such as Pedata RV Center, to help you buy the ideal class A for you!