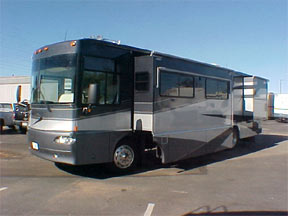 Whether you are looking for a used diesel pusher as a first time RV buyer or a seasoned RV owner, you probably know the advantages of buying a pre-owned RV. It is no secret that you can save a lot of money by buying a recreational vehicle that is used. Just like with cars, recreational vehicles lose a lot of value the first time they are driven off the lot brand new. After the first few months the depreciation slows considerably and it can become a great investment for a used diesel pusher buyer. However, you have to be wise in your purchase and buy from a reputable dealer with financing and customer service.
A diesel pusher may also be known as a Class A Motor home or a diesel powered motor coach. A diesel engine is more efficient and powerful than a gas engine because of the way that it produces energy using highly compressed heated air. You can tow more and carry more. However, a diesel pusher can also be the most expensive type of recreational vehicle which makes buying a used diesel pusher all the more appealing.
If you see a newspaper classified advertisement for a diesel motor coach or see one parked on a street corner in front of a home with a "for sale" sign on it think-"buyer beware." When you purchase a used diesel pusher from a private seller you are putting yourself at risk for all kinds of problems down the road (no pun intended.) You will not have any kind of guarantee on the quality of the vehicle or an extended warranty if anything goes wrong later on. There will be no customer service after the sale on your used diesel pusher. You will also have to arrange your own financing with a bank or credit union that does not have loan products designed specifically for RV buyers.
At a wholesale dealer like PedataRVCenter.com you will find not only a wide selection of brand new RVs, but also what may be the perfect used diesel pusher for you and your budget. As a wholesaler they can offer brand new RVs at prices that you would pay for used RVs elsewhere, but if you have your heart set on a used diesel pusher, you will find some excellent choices from the leading recreational vehicle companies.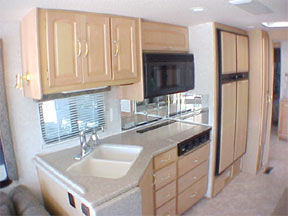 Financing an RV can be intimidating if you don't have the right tools. If you go to your bank or credit union, they will probably offer you a product like a standard short term loan or a home equity loan. Not a used diesel pusher loan. But, if you work with a dealer like Pedata, they have access to a number of different loan products with financing terms to fit every lifestyle and budget. Check out the online RV financing calculator to see how much new or used diesel pusher you can afford.
An extended warranty on your pre-owned diesel pusher can give you the peace of mind that you are looking for when you are out on the road. You don't want expensive repair bills to put a damper on your travel plans. Protect your investment by getting a warranty that can save you money in the long run.
used itasca diesel pusherRV travel is enjoying more popularity in every family type and age group. People are discovering the freedom and luxuries that the recreational vehicles of today have to offer. A trip to the mountains or a visit to some old friends across the country has never been easier or more relaxing. You have all of the comforts of home within reach.