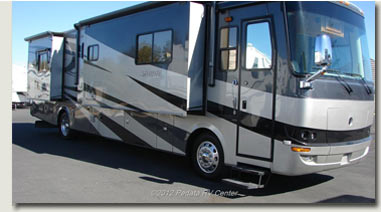 The Holiday Rambler RV history is one that gives consumers the ability to trust the manufacturer of the product. And this is important when the product you are buying is a fairly large investment. It used to be said that the largest single monetary holiday rambler rvinvestment most "normal" people make in their lifetime would be their home. I'd have to say that recent years may have changed this and at least some of those normal people are now exceeding or coming close to exceeding the amount of money they spend on their homes by the amount of money they spend on their RV's. In such circumstances, RV buyers want to know that those making the product are trustworthy and reputable. Holiday Rambler RV buyers are given that added security.
The first Holiday Rambler recreational vehicle was a travel trailer introduced to the public in 1953. Holiday Rambler claims the pioneer spirit guides them as it does many of those who opt for a Holiday Rambler RV. Recreational vehicles are loved and prized for their ability to provide homelife and comfort with adventure and travel. Since 1953, Holiday Rambler has introduced countless new innovations as one of the leading RV brands in the industry. They are proud of their history, but aren't stuck in it. They continue to introduce new designs, exciting new options and features, technologically advanced security measures and wonderfully designed floorplans that can accommodate the changing needs of consumers. With the many various options in type of Holiday Rambler RV most consumers can find exactly what they are looking for without opting for another manufacturer. Holiday Rambler continues to expand their product line and create models that aim at fulfilling the needs that are seen amongst the RV consumer community.
In 1996, the Holiday Rambler RV line became one of the prestigious lines backed by Monaco Coach Corporation. Monaco is one of the fastest growing manufacturers in the RV industry and the largest manufacturer of Class A motorhomes. While Monaco is proud of their past accomplishments and all of the many exemplary models they have produced including the many successful Holiday Rambler RV models . . . they are more concerned with the future and further opportunities to offer consumers more than they dreams. The Monaco Coach Corporation plans to build innovative and dependable homes on wheels that are affordable and competitively priced within the RV market. Holiday Rambler RV products are one of the many lines that Monaco expects great things from. They not only invite consumers to enjoy their current line of products, but they invite consumers to keep an eye on them because they know that there are great things to come that you won't want to miss.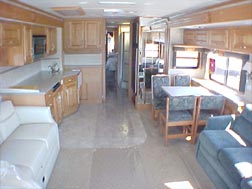 The Holiday Rambler RV is a name that everyone with any type of experience in the RV industry knows. And when you are making the type of purchase that requires this type of money . . . you want to know the people involved in the design and production of your product. You know their honest when they'll let you see what they're up to. And Monaco has daily tours of their production facilities with no appointment necessary, so there's one more reason to trust the Holiday Rambler RV. They aren't trying to hide anything. They want consumers to see everything they've got to offer because they're proud of what they've done and what they're doing. And they're doing it for you because you are their next potential customer. They work hard to know what it is you will be looking for before you even begin tocould look or know that you'll soon be looking. They probably already created the exact model you have envisioned. Check it out.