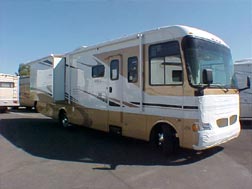 The Holiday Rambler Admiral is one gas coach that isn't going to be left behind. If you are looking for affordable luxury offered in a quality package . . . this just might be your RV! The stereotype is that in order to get the utmost in luxury you need to go with a diesel powered coach, but the Holiday Rambler's Admiral breaks this stereotype without a problem.
There's no instinctive ducking when you step up into the Admiral. With spacious ceilings and massively popular floorplans that maximize on the space at hand . . . the Holiday Rambler Admiral has room to spare. You'll feel like you're in a resort style suite rather than your own motorhome on the road. The interior construction, layout and design will leave you feeling comfortable on the road or settled in for a longterm stay in the RV. Holiday Rambler has been around since the beginning and their experience has led to such quality and exemplary models as the Holiday Rambler Admiral. The necessaries are all taken care of and the optional features are right up your alley.
The actual construction of the RV is the starting point for quality. Holiday Rambler believes in safety and quality as the basis for comfort and luxury, and the Holiday Rambler Admiral is no exception. Some of the great features of the actual structure of the Holiday Rambler Admiral include: Alumaframe® Superstructure Steel Cage Cockpit construction (both for strength and stability of the RV frame), Peaked one-piece fiberglass roof with fiberglass insulation, one piece front windshield (Panaview®), and many, many more. The minimum is something that Holiday Rambler Admiral does not acknowledge. Holiday Rambler products as a whole surpass industry standards and consumer expectations.
Consumer expectations are surpassed in safety aspects of the Holiday Rambler Admiral, in interior design aspects, in frame construction aspects, in engine capabilities, in exterior style and quality . . . pretty much in every way. Holiday Ramblers are often the first manufacturer name new RVers become acquainted with, and there's no quandary. The reasons are out there for all to see. They are a great representative of the quality products available to the RV shopper. RV buyers are typically over-pleased with a Holiday Rambler purchase. The Holiday Rambler history of care and quality has been backed since the 1990's by the Monaco Coach Corporation's strength and financial power. The partnership leaves nothing to be desired. There is a history and a reputation that is being upheld while the technological advances and design enhancements are going further and further each year to satisfy the consumers never ending desire for a bigger or a better recreational vehicle.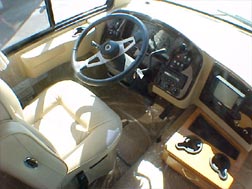 Not only does the Holiday Rambler Admiral (and Holiday Ramblers in general) provide a great starting point to entering into the RV industry in the mind to purchase, but they offer a great point of comparison. There are many, many, many wonderful options for RV's out there. And the Holiday Rambler Admiral is just one in comparison to the overall product availability of the industry as a whole. But you'll find that the Holiday Rambler is a good standard to work off of. Even if they don't have just what you are looking for they can serve as an example of just what is out there. You'll be able to compare features, and prices; engines and capabilities. Knowledge is power and you have to start somewhere. You can't go wrong with the starting your education in RV's with the multi-faceted Holiday Rambler lineup. But make sure you don't stop there for lack of knowledge that there's more to come. No matter how great it seems . . . you haven't seen it all!