Diesel pushers are among the most luxurious RVs on the market, boasting superior gas mileage and longer engine lifespan than their gasoline-powered counterparts.
Diesel pusher motorhomes feature their engine at the rear for a quieter ride and have plenty of storage space, plus can tow a vehicle without difficulty.
Cost of Diesel Pushers
Diesel pushers may cost considerably more than their gasoline counterparts and tend to range from $150,000 to $350,000 when new. However, their superior gas mileage makes up for any additional expense; and as these RVs last longer and offer better mileage they often make the investment worthwhile for full-time RVers and people living part time in them alike. These models also make a great option for boondocking on public lands as well as big-rig friendly campgrounds.
Class A diesel pushers come in an assortment of sizes, floorplans and price points. Tiffin's Allegro Red offers a powerful rear diesel engine and features handcrafted cabinets and central vacuum system inside its spacious cabin – towing up to 10,000 pounds with ease! For those seeking something less costly yet still classy the Spartan Summit ES chassis may be an attractive alternative; featuring an economical Cummins ISB 260 HP engine coupled with Allison 1000 Series transmission and air suspension suspension systems as standard equipment.
Diesel RVs tend to depreciate more slowly than their gas-powered counterparts and require fewer regular oil changes. Unfortunately, however, maintenance for such vehicles is typically more expensive due to specialized mechanics being required for service and repairs being typically more costly than for gas engines.
Diesel motorhomes offer many of the comforts of home while on the road, including ample storage space and spacious cockpits, large tanks for water and fuel storage, and powerful torque to move more weight up hills than gasoline-powered RVs.
However, if you plan on driving your diesel RV through national parks or areas with limited vehicle access, it might not be the right decision. These RVs can be challenging to maneuver through narrow roads or soft grassy terrain if they're heavy; driving one for the first time may also be daunting and scary; plus many cities and neighborhoods impose limits on how large an RV can be.
Reliability of a Diesel Pusher
Diesel pushers are known for their quality and dependability. Generally more reliable than gas-powered RVs, diesel motorhomes tend to be better at traversing mountain ranges more comfortably and confidently than Class A gas motorhomes. Furthermore, diesel RVs typically boast higher-end features like touch screen dashboards and advanced navigation systems thanks to being able to carry additional weight than their gas counterparts allowing for additional luxury amenities and luxury features.
Diesel pushers also tend to provide a quieter ride than other RV types, thanks primarily to having their engines situated further from the cabin than other types. Furthermore, their heavy-duty brake systems further help dampen noise.
Diesel pushers also offer a smoother ride than other types of RVs due to the heavy Freightliner chassis they rely on, with superior suspension and stability features, air braking capability, which makes them much more reliable than standard hydraulic disc brakes found in many Class A gas motorhomes. Furthermore, its turbo diesel engine produces more torque at lower engine RPMs, meaning it can climb steep grades without burning out!
Diesel pushers may be difficult for first-time drivers, especially those unfamiliar with driving such large vehicles. With over 40 feet long length and typically four wheels at each corner, turning, backing-in and parking can become challenging tasks. Furthermore, finding an RV mechanic who understands their unique mechanics may prove more challenging than for gas-powered RVs.
Overall, if you want an RV that will serve you for many years to come, a diesel pusher may be your perfect solution. While these models may cost more than their gas counterparts, their durability makes them well worth investing in for travel across America with comfort.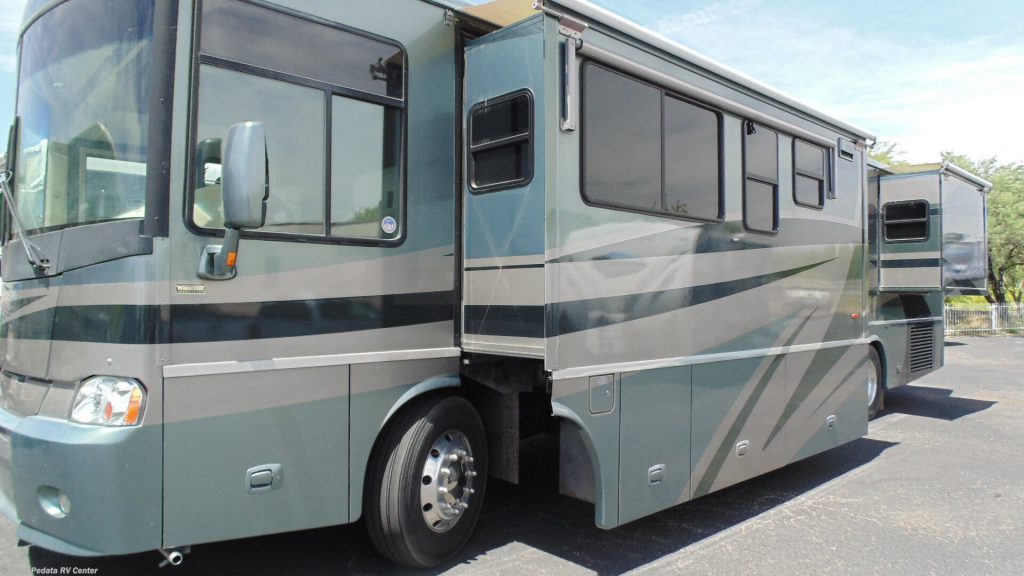 Ease of Maintenance for Diesel Pushers
For a quiet ride while traveling on the highway, a diesel pusher RV may be ideal. Their engines are located at the back, creating significantly less noise than motorhomes with engines at the front. Furthermore, most diesel RVs offer superior fuel efficiency than their gas counterparts – typically 7-10mpg as opposed to 12-16mpg with gas RVs.
One advantage of diesel pushers over gas models is that they have greater exterior storage space, larger living areas and luxurious features within their RV; such as large bathrooms, washer/dryers and full kitchens.
One drawback of diesel pushers is their cost to maintain. You may need to pay higher premiums for diesel fuel and finding an experienced mechanic may prove challenging. Furthermore, if your RV will be used full time for travel purposes it's essential that you are comfortable operating such a large vehicle in busy traffic environments.
Keep in mind that diesel pushers may not be easy to navigate at campgrounds due to their size and length; their bulk can make navigating narrow roads or tight campsites challenging. Furthermore, some campgrounds require you to obtain a special permit if bringing these large vehicles on site.
A diesel pusher offers several advantages over other types of RVs, such as its ability to tow more weight and smoother ride quality. If you're searching for a luxurious motorhome capable of taking on road travel with all of your toys attached securely then consider getting a diesel pusher as part of your fleet.
Are You Looking to Start RV Travelling? Pedata RV Center has wide selection of new and pre-owned diesel pushers could be perfect. Plus, with financing options to help make purchasing one affordable! Plus, our friendly staff would be more than happy to answer any queries that arise regarding their RVs or services we provide! Contact Pedata RV Center today!
Towing Capacity of a Diesel Pusher RV
Diesel pushers are known for their power and durability, as well as their towing capacity – making them ideal for transporting trailers containing toys or luggage. Class A diesel pushers typically can tow around 20,000 lbs – far greater than any gas motorhome can handle!
When it comes to choosing between a diesel or gas RV, the key factor should be your desired lifestyle when camping. Do you prefer being close to nature, or would rather enjoy all of the comforts of home while on vacation? For full-time living on wheels, diesel pushers may be best as these vehicles tend to offer higher levels of comfort and luxury amenities than their counterparts.
Your preferred type of towing vehicle depends heavily on its intended use. For instance, camping in national parks requires a diesel pusher; for smaller campgrounds however, a gas RV might be better.
Diesel pushers also tend to offer more living space than gas RVs due to having the engine at the back, leaving more room for furniture and amenities in addition to not blocking as much of the living area as its counterparts do.
One of the main attractions of diesel pushers is their fuel efficiency. On average, these RVs average 8-10 MPG – more than other types of RVs! Of course, this can differ depending on what kind of towing vehicle and terrain they're driving over.
Considerations should also be given to where and when you plan to store the diesel pusher during its off season storage period. Many cities and towns impose height limitations for RV parking; so make sure you consult local regulations prior to purchasing one.