An RV Motor Home – Luxury Travel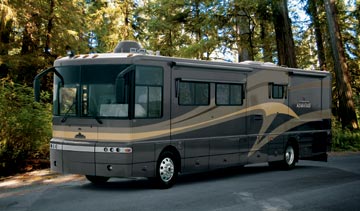 The RV motor home is becoming more and more popular as a way to travel whether you have a young family, you are enjoying your retirement, or any time in between. With a motor home you can have all of the amenities of home while you are on the road. Whether you want to spend your summer vacation camping at the lake, or you want to travel from coast to coast stopping at all of the interesting spots in between, you will find an RV motor home that fits your travel needs perfectly. There are a couple of different classes of motor homes with many different features that you should look at when you are deciding which is right for you.
A Class A motor home is also known as a motor coach. These are the biggest class of RV motor home. They are built on a chassis that is similar to a bus. If you step into one of these RVs you will be amazed at the spaciousness and the furnishings that are available. You can have state of the art entertainment systems, hardwood cabinetry and floors, beautiful tile and carpet, and designer upholstery. Appliances can include a washer and dryer, a full size range and refrigerator, and a microwave. An RV motor home can really be as comfortable as your home.
The Class C motor home is also known as the "mini motor home." It is slightly smaller than the Class A motor home and is built on a modified van or truck chassis. However, don't let the smaller size fool you-this recreational vehicle is big on features and comfort. You will find a fully appointed kitchen and bath area along with sleeping arrangements that can be configured for anywhere from 2 to 6 people. This RV motor home is great for families who want to use it for long weekends at the beach or couples who want something a little smaller to take on long trips, without giving up the comforts of home.
There are advantages to each of these types of RV motor home. If you want a lot of power to pull a car or boat behind your RV you might want to consider the Class A. They also have the advantage of more space. The class C RV motor home is a little easier to maneuver and can fit it smaller spaces, and it will also have better fuel economy.
To find an RV motor home that fits your lifestyle and needs you should visit PedataRVCenter.com and check out their lineup of brand new Holiday Rambler recreational vehicles and pre-owned makes and models of many of the other leading manufacturers. Holiday Rambler recreational vehicle is regarded as one of the best in the industry and Pedata offers them at wholesale prices, saving you thousands of dollars. Not only will you find listings of quality new and used recreational vehicles, but also information on financing, types of recreational vehicles, features, options, and clubs for RV motor home owners. Everything you need to know to buy an RV is in this one location-it is one stop recreational vehicle shopping!
People are buying more recreational vehicles because they recognize the quality they represent and the advantages to traveling this way. Manufacturers have listened to consumers and are offering a product that is better than ever. More power, more amenities, more safety features, and more overall luxury. You will be able to spend more time doing the things that you love while you travel, seeing the sights and the people that you care about, and doing it all at your own pace. Recreational vehicle travel makes it all possible.