Are you ready to hop behind the wheel of your new, used, or rented recreational vehicle and hit the road on your first RV vacation? Many people choose to do their traveling in a recreation vehicle. A recreational vehicle can offer you and your family or guests the ultimate vacation experience. Planning any RV vacation might seem overwhelming to you, especially if it is your first trip. Take a deep breath and relax, your trip will be as magical and memory filled as you allow yourself to dream!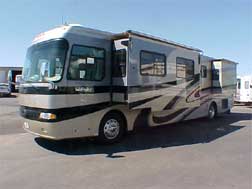 Planning your first motor home trip is easy. By taking the time to pre-plan, you will be able to relax and enjoy the actual vacation time, as well as your time in your RV. Whether you are the type of person who likes to map and plan everything out in the most minute detail, or if you are the kind of person who likes to fly by the seat of his/her pants with just some rough outlines of plans. If you decide to change your plans mid trip or rearrange the order of different stops along the way that is great. It is smart, though to lay out at the least lay out a basic plan for your RV trip.
Your recreational vehicle plan:
1. DO I HAVE TO ALREADY OWN AN RV? One of the most obvious and important decisions you will have to make in planning your recreational vehicle vacation is to decide (if you do not currently own a new or used recreational vehicle) if you want to rent an RV or purchase a new or used recreational vehicle. Some people choose to rent prior to buying their first RV, but if you are one of the other folks who are heavily interested in buying a new or used motor home, then a wholesale dealer, such as Pedata RV Center can help you through your first motor home purchasing experience.
2. ROUND TRIP OR ONE WAY? You may ask one-way? Well, often times full time RVers will plan two separate trips instead of one big one. Many find it easier to plan two small trips, rather than one big one. This, of course, is up to you! You can decide to travel there one route and travel back a route that is completely different. Once you decide your destination points, you will be able to choose routes and activities.
3. DATES It is important to have solid dates when traveling, so you can think or research different activities. There are seasonal activities, as well as other fun things to do that occur around a certain date, such as festivals or recreational vehicle rallies.
4. TIMES You will also want to plan your recreational vehicle trip and vacation stops around certain times of the day. Remember: Be safe in driving if you are planning to drive long distances at night.
5. ACTIVITIES Take some time and research different activities or adventures that match you and your family's interests. Is there an ultimate reason why you have decided to take an RV trip? Does your son love to hike and your daughter love to canoe? Do you and your spouse enjoy roadside cafes or seeing national monuments? Think about fun for the whole family. There are maps that cater to camp grounds, national parks, and even off the beaten paths for you to take a look at.
Your RV vacation will be all that you dreamed for it to be. Planning the trip is just the beginning to your fun adventures in your first motor home experience. The more you know about where you are headed, the more relaxed you can be on the actual vacation! Enjoy!