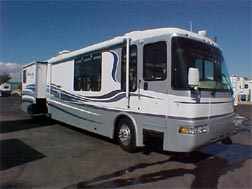 One of the most exciting parts of being an owner of a motor home is that with your first motor home and rvs purchase you immediately become a part of a family and intimate community. As all NASCAR enthusiasts, Soap Opera followers, or fans traveling with their favorite band know, the community in which the particular subject is the passion is a part of the splendor and appeal.
Owners of motor home and rvs are on the road. Whether the reason is to travel to all of the World's Guinness Records on the interstates of America as a full timer or to escape once a month to a weekend getaway with your family, the road is your friend. Owners of motor home and rvs are no different. There is a community of dedicated RVers and motor home owners that travel to rallies held all across the United States. They wear their special logo clothing, share secrets on internet chat rooms, and read the RV scoop in the recreational vehicle tailored magazines. Doesn't it all sound exciting? Aren't you ready now to buy your first recreational vehicle and start your participation in these fun filled activities? No matter what you enjoy about your motor home there is a rally just for you!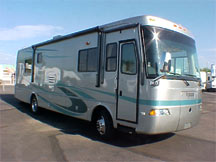 A motor home and rvs rally is much more than just a bunch of motor home and rvs owners sitting around gabbing about what new amenity they have just put on their recreational vehicle. The motor home and rvs rallies can be both specialized for a specific make or model of recreational vehicle, like Monaco or Air Stream, or the motor home and rvs rallies can be specifically about the ins and outs of traveling to different parts of the country, such as the west coast or Texas plains.
Once you have decided that you are ready to go and experience such a rally, take some time to do some research on the internet to find the right rally for you. First try looking at your manufacturer's website or if you purchased your new or used motor home at a full service, high-quality wholesaler, such as Pedata RV Center, then contact them. Look at specialty RV magazines, where usually future rallies are highlighted and past rallies are reported upon. Talk to your new motor home friends to see what rallies they have been to or where they are planning on going.
Once you get to the motor home and rvs rally of your choice, you will simply be amazed at how many people share a passion such as your own! Be encouraged to go around and introduce yourself. Make new friends for your new life on the road.
A typical day of a motor home and rvs rally may / may not include the following:
Registration (advised to pre-register, sometimes if you pre-register you may be entered into a fun motor home prize package)
Meet and greet
Showcase of new makes and models
Walk about to see the vendors
Complimentary recreational vehicle magazines and discounts on subscriptions
Test drives
Opportunities to test out new products
Food, fun, and festivities
And much more!
The rallies offered to the community and families of recreational vehicle owners are filled with new information that you may find beneficial to your future RV experiences. The rallies will also offer fun times with games for the children, good food and drink, and great motor home conversation. It is up to you to enjoy this type of motor home community and family. You might even meet a new group of friends to caravan with to the next rally!