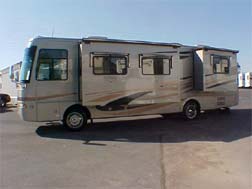 The Holiday Rambler Neptune is one more great RV offered in the quality Holiday Rambler line up produced by Monaco Coach Corp. Every Holiday Rambler is offered innovative and unique design, inside and out (and under the hood), as well as quality manufacturing and up to date safety features and the Neptune is definitely fit to compete even amongst its own great line up.
The Holiday Rambler Neptune reflects Holiday Rambler's continued search for more and more space within the RV. This recreational vehicle is definitely spacious. There's plenty of roomy storage to keep everything put away and in its place on the road and off. Typical of Holiday Rambler in general, this particular Holiday Rambler model features countless residential features that you would associate more with a standard residence than a home on wheels. But this home on wheels is definitely out of the ordinary. The Holiday Rambler Neptune has the floorplan to fit your lifestyle, the quality construction and design that will remind you that the Neptune to many is more than an RV: it's home. If you are the type who counts closets when you are in looking at a home during your search to buy . . . the Neptune will leave you satisfied in your craving for storage space. There is hardwood, raised wood cabinetry woodwork in every conceivable location to make sure that there will never be a shortage of room when it comes to "putting that away."
The Holiday Rambler Neptune's plush seating and various interior design options will leave you feeling perfectly at home. There is no way you will feel slighted by the options you'll be offered. In addition to being lovely and practical, the Holiday holiday rambler neptuneRambler Neptune is safe. One safety feature is the Panaview™ Windshield. It is a one piece windshield offering the largest unobstructed view of the horizon in the industry. The wipers are mounted under the driver's field of viewing so they don't inhibit the ability to see in any way. Side pillars allow the driver to enjoy increased peripheral vision that will aid in keeping your Holiday Rambler Neptune on the road and moving along safely. Another safety feature is the mounting of the 17.5" power heated mirrors. They are attached on the front cap, so you don't even need to turn your head to access their view. These are just a couple of the safety features Holiday Rambler Neptune proudly offers their RVers.
The Roadmaster chassis that provides the basis for the Holiday Rambler Neptune allows for large pass-through storage which easily accommodates larger items. The items are easy to access through side-hinged doors that will allow easy removal/packing as well as viewing to find that particular item that you don't have a very detailed memory of packing!
The Holiday Rambler Neptune has features galore (we've only tipped the iceberg here), but not to be left out is the powerful engine. With such a home on wheels as we've described here . . . there needs to be a lot of power to get it around and get it around "well." The Cummins® ISB 300 HP engine with 600 ft./lbs. of torque and an Allison® 2500 MH 5-speed World Transmission will definitely do the job. In addition to the power and efficiency offered by this diesel engine, some models come with a new electronic switch pad for added convenience.
The Holiday Rambler's Neptune model offers a lot for not so much. Look around and comparison shop so you end up with the RV for your needs, but don't miss out on the Holiday Rambler's Neptune or any of the other Holiday Rambler models. They are classic in quality, style and luxury.