Specializing in Nationwide Online RV Sales
Toy Hauler Sales – Made For Outdoors Enthusiasts: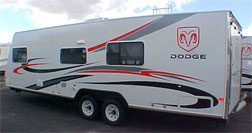 These recreational wonders are made for the outdoors enthusiasts who love their toys. Not only are these beauties built to provide the amenities of a Class A travel trailer or fifth wheel , these trailers have a built in garage to hold anything from ATV's, canoes, bicycles, and more. Toy Haulers come in a variety of sizes from a small living quarter/built in garage on wheels to the room of a small apartment with multiple slide outs. Large Toy Haulers can act as a great and inexpensive vacation home at the sand dunes as well as a campsite on a riverside. At the Pedata dealership in Arizona, we have many toy hauler sales options, new and used toy haulers, and an online searchable database of toy haulers for sale.
Toy Haulers range anywhere from 19ft (travel trailer style) to 40ft (fifth wheel style). Most Toy Haulers around 19ft-24ft feet will accommodate one couple and some kids comfortably plus a couple of ATV's. Twenty-five and up can sleep a family of five, sometimes even six or more. The larger Toy Haulers have been known to handle two couples or more depending on the kind of sleeping quarters incorporated into the floor plan plus generally as much as four ATV's. There are even trailers out there with bunkhouse style sleeping quarters for a large group or family. Most of your Toy Haulers will come moderately furnished including refrigerator, stove, microwave, furnace, shower, and a/c. As the price and size increase, well, so do the amenities.
If the toy hauler sounds right for your needs, consider buying from the Pedata dealership. Even if you're not in Arizona, you can buy from Pedata with confidence. Visit our online sales showroom to check our inventory of new and used toy haulers for sale.
Toy Hauler Sales and Price Ranges
You Can Buy a New Toy Hauler for $15,000-$55,000
The range of A Toy Hauler 's construction doesn't sway as much as a fifth wheel or class A motorhome but the amenities will increase. Generally the least expensive Toy Haulers are small rigs with basic interiors. You'll find lower quality fabrics, and basic appliances and basic construction. Fully loaded, these babies come with everything including generators, fuel stations, separate walk in garages, slick sided fiberglass exterior walls, and more.
The good news is that you can find reliable new and used toy haulers for sale at Pedata RV Center in Arizona. Our online database of toy haulers for sale can't be beat!
No matter which kind of toy hauler you decide to buy, you should check out Pedata's online searchable inventory of new and used toy haulers. Even if you're not in Arizona, you can buy from Pedata with confidence. Visit our online sales showroom to check our inventory of new and used toy haulers for sale.
---
Don't Make a $10,000 Mistake Shopping Elsewhere on Your Next RV
If you let Pedata take care of your RV sale, you'll save as much as $10,000 or more. Whether you're new to RV sales or you're ready to buy and are just looking for the best used motorhome you can find, you can stop your search here. Pedata RV Center is ready to assist you. When it comes to an RV for sale, we are the experts and we want you to walk away satisfied with your purchase and your experience!
Pedata RV works very hard to make sure all the information provided on this website is accurate; however, different products, descriptions, promotion programs and services may change at any time from those listed on this site. All advertised promotional discounted rates and payments can change without notice, and applicants must be accepted by the funding bank, which typically includes, but is not limited to, high scores, debt to income ratio, down payment and loan value. All of our prices listed on this site are subject to change without notice, and do not include tax and other applicable fees. All technical data, product information, program information, photographs and illustrations are intended to be useful information available to Pedata RV at the time of posting, and are subject to change without notice. The RVs on this site may be staged with various props for display purposes only that may not be included with the purchase.
To verify current information, call us toll free at
888-973-3282
or
520-623-6387

HOME OF THE LIVE VIRTUAL TOUR
Be sure, be safe! Schedule your
virtual tour today.

Skip to content