Specializing in Nationwide Online RV Sales
What are "Class C" RVs?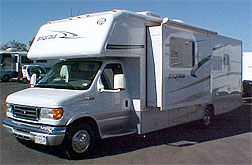 Class C RV Sales Class C motorhomes are generally smaller and less expensive than Class A motorhomes. The size typically ranges from ten thousand to eighteen thousand pounds gross vehicle weight rating, from twenty to thirty-two feet long, and from about nine to ten feet high. Basically a Class C is any RV that has a custom motorhome body mounted on a conventional vehicle chassis. Typically, Class C motorhomes are built on a van-fronted commercial truck chassis. Class C motorhomes look like an extended van from the front with a big box for the living quarters extended to the back. Generally most class C's will have an overhead sleeping or entertainment center area above the driving compartment. At the Pedata dealership in Arizona, we have many Class C options, new and used Class C RVs, and an online searchable database of Class C RVs for sale.
Class C RVs accommodate four full size people and two additional children (for a total of six people) on most units. Class C full time RVing is usually limited by storage and weight capacities. However, if you travel light, you can live in a large Class C as you would in a mid-sized Class A.
Some people manage to turn some class C motorhome units into full time coaches. The Class C is intended mainly for weekend use or for making those nice little week vacations with the family (Hello Disneyland!!). Class C rigs often feature sleeping accommodations in a compartment above the driving cab, the dinette turns into a bed, a jack knife couch, also a bed, and possibly a full-queen size bed in the back. They offer large living accommodations and decent bathroom dimensions with some even coming with 2 slides for even larger living quarters.
If the Class C RV sounds right for your needs, consider buying from the Pedata dealership. Even if you're not in Arizona, you can buy from Pedata with confidence. Visit our online sales showroom to check our inventory of new and used Class C RVs.
Class C RV Sales and Prices (Low $40,000-mid $80,000)
The least expensive class C motorhomes usually come equipped with a generator compartment, (generator optional) 30 amp shore power, kitchen sink, shower, toilet, fresh water holding tank, black sewer tank, gray used water tank, dump valves and will usually sleep at least 4 adults. The more money you spend the more equipped the rigs will be. Most class C motorhomes are gas-powered but can be special ordered with a diesel. Expect the units to be built on a basic frame and chassis. Cabinetry will feature plywood and paneling construction, with laminate for a real wood look.
The good news is that you can find reliable new and used Class C RVs for sale at Pedata RV Center in Arizona. Our online database of Class C RVs for sale can't be beat!
Class C RV Sales – Advantages to the Class C RV
The Class C generally costs less than its Class A relative.
The Class C is generally easier to drive for some.
Unlike a large Class A, a small Class C can be parked almost anywhere you want to camp without attracting too much attention.
Pedata's online searchable selection of new and used Class C RVs for sale can't be beat!
---
Don't Make a $10,000 Mistake Shopping Elsewhere on Your Next RV
If you let Pedata take care of your RV sale, you'll save as much as $10,000 or more. Whether you're new to RV sales or you're ready to buy and are just looking for the best used motorhome you can find, you can stop your search here. Pedata RV Center is ready to assist you. When it comes to an RV for sale, we are the experts and we want you to walk away satisfied with your purchase and your experience!
Pedata RV works very hard to make sure all the information provided on this website is accurate; however, different products, descriptions, promotion programs and services may change at any time from those listed on this site. All advertised promotional discounted rates and payments can change without notice, and applicants must be accepted by the funding bank, which typically includes, but is not limited to, high scores, debt to income ratio, down payment and loan value. All of our prices listed on this site are subject to change without notice, and do not include tax and other applicable fees. All technical data, product information, program information, photographs and illustrations are intended to be useful information available to Pedata RV at the time of posting, and are subject to change without notice. The RVs on this site may be staged with various props for display purposes only that may not be included with the purchase.
To verify current information, call us toll free at
888-973-3282
or
520-623-6387

HOME OF THE LIVE VIRTUAL TOUR
Be sure, be safe! Schedule your
virtual tour today.

Skip to content