Specializing in Nationwide Online RV Sales
What is a "Class B" RV Sales or "van conversion"?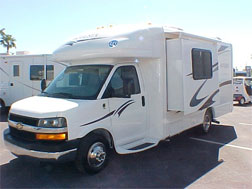 Class B RV Sales "Class B" and "van conversion" refer to an RV converted from a factory van body and chassis. Class B vehicles usually have a raised roof to allow for standing room, and some have a wide body section added. Other options include small slide-out sections and pop-up tops for use when stationary. The average height of these units ranges from seven to nine feet, with lengths of around 17 to 22 feet. A growing number of manufacture rs are building these economical beauties to replace the less stable micro mini models of the past. At the Pedata dealership in Arizona, we have many Class B options, new and used Class B RVs, and an online searchable database of Class B RVs for sale.
Though small, conversion vans are designed for maximum efficiency and amazingly feature all the amenities of full-size motorhomes including toilet and shower facilities, stoves and refrigerators, furnaces and air conditioners. To make best advantage of available space, living areas are designed to accomplish multiple purposes. For example, the dinette area or couch may convert into a bed. If the Class B RV sounds right for your needs, consider buying from the Pedata dealership. Even if you're not in Arizona, you can buy from Pedata with confidence. Visit our online sales showroom to check our inventory of new and used Class B RVs.
Conversion vans are almost as easy to drive as the family car and fit in a standard parking space. Consequently, they can accomplish two jobs, day-to-day transportation as well as vacation quarters. Due to their smaller size, these units are generally best suited for couples or singles on relatively short camping trips. Check out Pedata's selection of these Class B RVs for sale.
Class B RV Sales – Price Ranges
Averagely equipped Class B RVs conversion vans are typically priced at $35,000 and up. Performing the magic of packing a home into a confined space requires considerable engineering and manufacturing efforts, and the van itself must be modified to withstand the weight of living quarters and storage tanks.
The good news is that you can find reliable new and used Class B RVs for sale at Pedata RV Center in Arizona. Our online database of Class B RVs for sale can't be beat!
Class B RV Sales – Advantages to the Class B RV
You can camp anywhere, whether on street side or in a national forest.
As a lighter recreational vehicle with a smaller engine, a conversion van is more fuel-efficient than a "Class A" or "Class C" RV.
Pedata's online searchable selection of new and used Class B RVs for sale can't be beat!
The purchase price is less than the two larger classes
By purchasing a class B motorhome from Pedata, you have years of experience and dependability on your side. We have a strong reputation of being one of the top RV dealers in the country. The personal attention you receive and the customer service we offer is unparalleled. We bank on the fact that you will come back to us with all of your RV needs, and that you will tell your friends about the pleasant experience you had with us. We don't just see you through the sale, we are there after the sale as long as you need us. With Pedata on your side, you can travel with confidence, because you have us on your team.
---
Don't Make a $10,000 Mistake Shopping Elsewhere on Your Next RV
If you let Pedata take care of your RV sale, you'll save as much as $10,000 or more. Whether you're new to RV sales or you're ready to buy and are just looking for the best used motorhome you can find, you can stop your search here. Pedata RV Center is ready to assist you. When it comes to an RV for sale, we are the experts and we want you to walk away satisfied with your purchase and your experience!
Pedata RV works very hard to make sure all the information provided on this website is accurate; however, different products, descriptions, promotion programs and services may change at any time from those listed on this site. All advertised promotional discounted rates and payments can change without notice, and applicants must be accepted by the funding bank, which typically includes, but is not limited to, high scores, debt to income ratio, down payment and loan value. All of our prices listed on this site are subject to change without notice, and do not include tax and other applicable fees. All technical data, product information, program information, photographs and illustrations are intended to be useful information available to Pedata RV at the time of posting, and are subject to change without notice. The RVs on this site may be staged with various props for display purposes only that may not be included with the purchase.
To verify current information, call us toll free at
888-973-3282
or
520-623-6387

HOME OF THE LIVE VIRTUAL TOUR
Be sure, be safe! Schedule your
virtual tour today.

Skip to content