Specializing in Nationwide Online RV Sales
RV Slide-Outs
Hydraulic vs Electric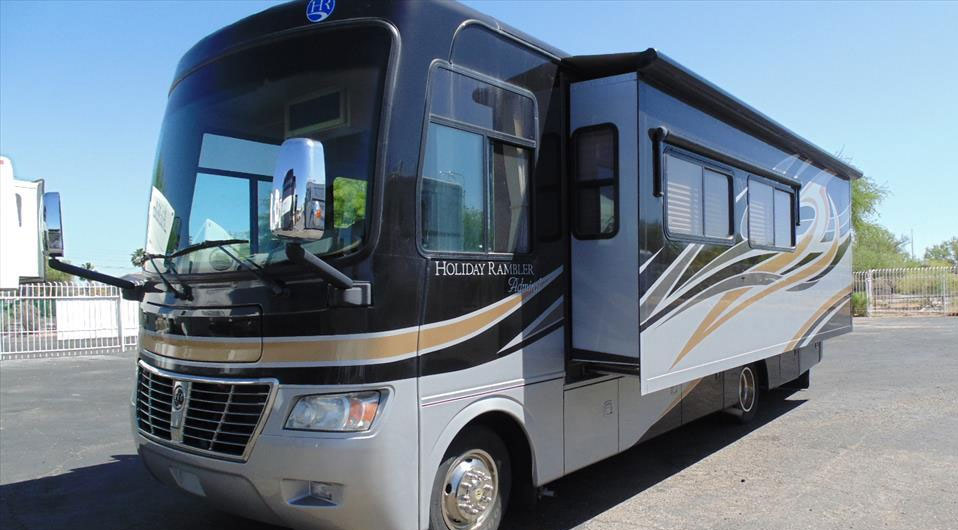 Slide outs on a recreational vehicle can be a real Godsend, especially if you spend a lot of time in your parked RV. They create a more spacious environment and eliminate any "cramped" feeling inside the coach. They can really mean the difference between living in complete comfort and just existing in a somewhat crowded environment. They are well worth the extra expenditure assuming two things: they are functioning correctly, and there is room to extend them at the camping spot you have chosen.
While slide outs create a roomier, more spacious environment, there are few things to learn about them, and due to the very nature of the systems that drive them, they come with a few challenges. They do require a degree of vigilance and upkeep in order to keep them working properly.
There are two types of mechanical slide out systems: electric and hydraulic.
Electric slide outs are powered by an electric motor that drives a gear system. They are typically used on the smaller and lighter slide outs. As long as they are not overloaded, they work quite effectively. However, they do present challenges if they are not engineered and integrated into the coach properly.
The vulnerabilities of electric slide outs are:
The motor or gearbox can go bad
The drive pins in the main gear mechanism are subject to shearing
The motors can draw excessive amperage if there is any resistance in the slide, which can cause breakage, or the tripping of your electrical relays
Hydraulic slide outs are used on the larger, heavier types of slides. It only requires one motor/pump assembly for multiple slides. These hydraulic drivers are more complex than the electrical models, and can generate more pushing power.
The vulnerabilities of hydraulic slide outs are:
The pumps, valves or hydraulic lines are capable of failure
The hydraulic fluid lines are susceptible to excessive wear, friction and heat.
The lines can develop leakage through breaks or connection disruption
There are maintenance issues to be addressed when you own an RV with slide outs. There is truth to the adage that "the more gadgets you have, the more things there are to go wrong." Remember that rolling down rough roads, age and exposure to the elements can cause havoc with your slide outs and the mechanisms that drive them.
Many of the slide outs have provisions to manually crank them open or closed. Campers can get into a real bind when they are ready to leave the RV park and they can't get the slide outs to close. This is a case where the ability to manually crank it closed would be a great feature to have.
In addition to mechanical concerns, there are design challenges that come along with slide outs as well. Remember that these expanders are very heavy, and can weigh as much as a ton. They must maintain a level posture as they extend and retract. There will always be some type of roller assembly embedded in the outer frame, and it must remain stable as it moves. If not, the floor is susceptible to damage, and the point where the slider meets the RV may not seal properly, which can lead to severe leakage and loss of the insulation factor.
Achieving and maintaining a watertight seal around the slide out (especially when it is extended) is imperative. With time, the rubber seals on your slide outs are vulnerable to becoming stiff, and prone to allowing water in. It is very daunting to be sitting in your expensive trailer or motorhome and notice a ray of sunshine coming from somewhere around the point where the slide out meets the motorhome. It is a documented fact that faulty slide out seals are the leading cause of water leaks in an RV. Loose or non-contacting seals can lead to expensive consequences during inclement weather, not to mention the degraded insulation aspects, letting cold air in, or allowing cooled air to escape to the hot outdoors. One other aspect of a faulty seal is the ability for insects and other vermin to join you inside.
Like other enhancing features of your RV, slide outs are great to have, but they will eventually require some maintenance, and probable repairs down the road. If the extra space they provide is worth keeping a watch on their condition and performance, then they are a beautiful feature to include in your RV. Have your Pedata RV Center recreational vehicle specialist go over the advantages and disadvantages of RV slide outs, and what type would best suit your needs.
---
Don't Make a $10,000 Mistake Shopping Elsewhere on Your Next RV
If you let Pedata take care of your RV sale, you'll save as much as $10,000 or more. Whether you're new to RV sales or you're ready to buy and are just looking for the best used motorhome you can find, you can stop your search here. Pedata RV Center is ready to assist you. When it comes to an RV for sale, we are the experts and we want you to walk away satisfied with your purchase and your experience!
Pedata RV works very hard to make sure all the information provided on this website is accurate; however, different products, descriptions, promotion programs and services may change at any time from those listed on this site. All advertised promotional discounted rates and payments can change without notice, and applicants must be accepted by the funding bank, which typically includes, but is not limited to, high scores, debt to income ratio, down payment and loan value. All of our prices listed on this site are subject to change without notice, and do not include tax and other applicable fees. All technical data, product information, program information, photographs and illustrations are intended to be useful information available to Pedata RV at the time of posting, and are subject to change without notice. The RVs on this site may be staged with various props for display purposes only that may not be included with the purchase.
To verify current information, call us toll free at
888-973-3282
or
520-623-6387

HOME OF THE LIVE VIRTUAL TOUR
Be sure, be safe! Schedule your
virtual tour today.

Skip to content