Specializing in Nationwide Online RV Sales
One Of The Leading Motorhome Manufacturers
Winnebago Industries: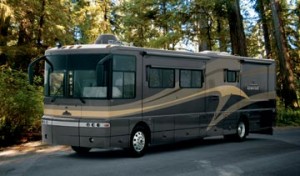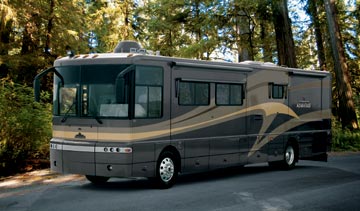 Winnebago Industries, Inc. is one of the leading manufacturers of motA Winnebago 2004 Ultimate Advantage painted brownish gray with two light brown colored swishes on its side driving down a wooded paved road.orhomes and RV related products in the United States. Headquartered in Forest City, Iowa, Winnebago builds motorhomes with state of the art manufacturing systems on automotive style assmbly lines. Brand names include Winnebago, Itasca, Rialta, and Ultimate. Winnebago markets its recreational vehicles through dealers throughout the U.S. and Canada.
In 1966, the first Winnebago motorhome rolled off the assembley line. In 1970, Winnebago expanded its manufacturing facility. In 1971 the company stock was up 462 percent. In 1975, Winnebago introduced the Itasca line. A milestone for Winnebago Industries occurred in 1977 when its 100,000th unit was produced, the first for an RV manufacturer. By 1986, Winnebago had produced 200,000 motorhomes. Also in 1986, Winnebago appeared on the Fortune 500 list. Today, the main production facility covers about 200 acres. The RV operation employs around 4,000 people. Winnebago's factory is the largest, most technologically advanced motorhome manufacturing facility in the world. Winnebago has approximately 310 motorhome dealers in the United States and Canada.
---
Don't Make a $10,000 Mistake Shopping Elsewhere on Your Next RV
If you let Pedata take care of your RV sale, you'll save as much as $10,000 or more. Whether you're new to RV sales or you're ready to buy and are just looking for the best used motorhome you can find, you can stop your search here. Pedata RV Center is ready to assist you. When it comes to an RV for sale, we are the experts and we want you to walk away satisfied with your purchase and your experience!
Pedata RV works very hard to make sure all the information provided on this website is accurate; however, different products, descriptions, promotion programs and services may change at any time from those listed on this site. All advertised promotional discounted rates and payments can change without notice, and applicants must be accepted by the funding bank, which typically includes, but is not limited to, high scores, debt to income ratio, down payment and loan value. All of our prices listed on this site are subject to change without notice, and do not include tax and other applicable fees. All technical data, product information, program information, photographs and illustrations are intended to be useful information available to Pedata RV at the time of posting, and are subject to change without notice. The RVs on this site may be staged with various props for display purposes only that may not be included with the purchase.
To verify current information, call us toll free at
888-973-3282
or
520-623-6387

HOME OF THE LIVE VIRTUAL TOUR
Be sure, be safe! Schedule your
virtual tour today.

Skip to content