Specializing in Nationwide Online RV Sales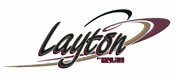 Layton Skyline RVs
If you think road travel in America is limited to cruising our country's magnificent interstate highway system, think again. Because just off the main thoroughfares, beyond the tree lines and privacy fences, is an entrancing mix of state highways, gravel roads, and yes, even some dirt tracks, where you'll find an America that you don't see on the nightly news. And what better way to discover the undiscovered than in a Skyline. And no need to search for a hotel or restaurant when you can park your own accommodations at some out-of-the-way campground or stop for a quiet picnic lunch in a small-town park. Skyline: What a great way to find your place, America!
Skyline RV's Commitment of Excellence
You can count on Skyline for quality products and services. Layton's Commitment of Excellence program asks customers to evaluate every aspect of their buying experience, leading to a better understanding of how Layton can meet your highest expectations as an RV buyer. Furthermore, Layton wants you to understand how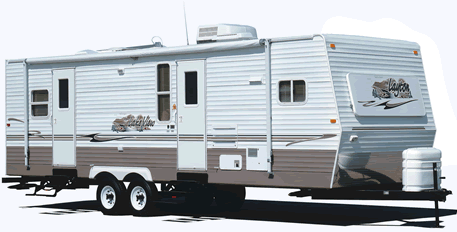 well past customers are satisfied with their new RV's quality and performance, as well as the professionalism, service and follow-up of the retail RV dealer from whom their recreational vehicle was purchased. If they had to do it all over again, would they choose a Skyline trailer or recreational vehicle? Would they do business with the same recreational vehicle dealer? Would they recommend Skyline or the dealer to a relative or friend? All of this information is available to you.
Customer responses are translated into a Customer Satisfaction Index (CSI), which is a uniform measurement of the quality of the entire RV buying experience from the customer's point of view. You will find the information extremely useful as you decide with whom you'd like to do business.
Layton is learning much more about what Skyline RV's customers want, as well as what they feel they have received, developing an increasingly detailed understanding of how Skyline and its recreational vehicle dealers can continue to strengthen their ability to satisfy customers in today's competitive, quality-oriented market. This combined effort has resulted in improved customer satisfaction, which is Skyline RV's goal.
Layton Skyline's No-Nonsense Warranty
Manufacturing defects reported to Skyline within two years after original retail delivery of your new Skyline trailer or RV by an authorized dealer will be corrected without charge and within a reasonable timeframe. Excluded from this warranty are problems resulting from misuse (including lack of reasonable maintenance), minor imperfections, alterations, and improper transportation, installation, or hookup on the part of the dealer or owner. In addition to the specific legal rights offered by Layton's warranty, you may have other rights which vary from state to state.
Valuable features offered by Layton RV include:

Layton's Dare to Compare
Underwriters Laboratories Classification 2-Year Full Warranty Individually Weighed — Certified — Posted on Exterior Rain Tunnel Tested
Simulated Road Tested (Shake Simulator)
Top-Quality Mortise & Tenon Cabinet Door Construction (No Angle
Cuts)
Stile & Rail Cabinet construction on Upper & Lower Cabinets
Seamless One-Piece Roof with Manufacturer's 12 Year Limited Warranty
Double-Wrapped & Sealed Exterior Metal Corners
Radius Clamp-Ring Windows
Radius Sealed Outside Compartment Doors
11,500 lb. Rated Safety Chain
Cambered Chassis
R7 Insulation
Larger Capacity Holding Tanks
Upgraded Name Brand Appliances
Over 53 Years in Business
Layton's Testing
Skyline recreational vehicles are subjected to a high pressure rain
tunnel test to ensure they are watertight, and a shake test that simulates
a rugged stretch of highway. The goal is to detect any problems before
your Skyline trailer leaves the factory.
These and other procedures make Skyline's process quality control
system one of the most aggressive in the industry. Skyline philosophy
is to build quality in from the start, not just try to create the appearance
of quality after a recreational vehicle is built. This total quality
approach encompasses all aspects of our business ranging from the product
concept to you, the customer. Our process control, testing, and inspection
will assure you that you've made a wise investment by selecting a Skyline
trailer or recreational vehicle as your ticket to enjoying the pleasures
of the recreational vehicle lifestyle.
This Recreational Vehicle is UL Classified

Skyline goes to extraordinary lengths to eliminate any problems before
your recreational vehicle is delivered to you. Our reliance on Underwriters
Laboratories (UL), America's most respected authority on product safety
and reliability, is our as

surance.
Since 1972, Skyline has used UL to provide independent, third-party
certification of the design and construction of Skyline RVs. This strengthens
Skyline's own rigorous quality control standards and gives you the
comfort of knowing that every built Skyline RV is UL Classified.
Third-Party Certification of Recreational Vehicles
is Important
An independent, technical authority that doesn't have monetary interest
in the product's profitability is needed. UL Classification assures
possible risks associated with the product's use are eliminated or
reduced.
UL is the most widely recognized and accepted safety
certification mark in the United States.

UL evaluates electrical, plumbing, heating, ventilating, air conditioning
and fire safety features and systems of recreational vehicles. From
furnaces and air ducts to electrical wiring and fuel and water piping,
UL looks at all the critical systems of your vehicle.
All Recreational Vehicles Are Not Created Equally.

Insist that you and your family camp in a Layton trailer or other
recreational vehicle that is UL Classified. Layton voluntarily comes
to UL for safety certification, which is not required by law. Layton
is concerned with the safety of all its products and knows that smart
customers look for the UL Mark.
Look for the UL Mark on the outside of your recreational
vehicle next to the front door

*Classified as conforming to ANSI A119.2. (Exceeds RVIA inspection
requirements.)
Layton's Arthur Awards:

The Arthur Award was established to recognize the levels of superior
customer satisfaction which Layton dealers have established as part
of their Commitment of Excellence initiative. The award is named after
Arthur J. Decio,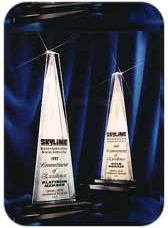 the
founder and Chairman of the Board of Layton Corporation.
All Layton retail customers are surveyed by an independent Customer
Satisfaction company to evaluate how they were treated during their
purchasing experience and how well our products have met or exceeded
their expectations. Layton and its dealers take this feedback very
seriously. Layton and its dealers listen to customer responses and
modify products and processes as necessary, continually striving toward
the ultimate goal of total customer satisfaction every time.
To recognize Layton dealers' exceptional effort towards total customer
satisfaction, Layton has established the Gold and Platinum Arthur Awards.
The Gold award is earned by dealers who score high enough in the Customer
Satisfaction Index to achieve a very satisfied customer level. The
Platinum Award is earned by our dealers who perform well enough to
achieve extremely satisfied customers. These awards demonstrate to
you that your Layton dealer is truly the best of the best.
Layton – It All Adds Up

Double-Wrapped and Sealed Corners with Rubber Insert
Molding
Overlapped metal provides watertight design. Tape and molding application.
Hydraulic Slide-Out Rooms with Manual Override
Superior to electric. Smooth, quiet, and quick. Most dependable system
on the market today.
Actual Weight, Not Estimate Weights
For your safety and peace of mind, Layton weighs every recreational
vehicle at the factory. Other manufacturers use estimated weights
which can be in error by as much as 20 percent. Insist your recreational
vehicle includes actual weight next to the entry door.
Tongue and Groove Plywood Floor
Stronger than Oriented Strand Board (OSB). Plywood is a highly stable
panel when exposed to moisture or high humidity. Other manufacturers
slip customers OSB – the very same floor they spoke against for
decades.
Durable, One Piece Rubber Roof
12-year manufacturer's limited warranty. U.V. ray resistant. Provides
complete, watertight seal.
---
Don't Make a $10,000 Mistake Shopping Elsewhere on Your Next RV
If you let Pedata take care of your RV sale, you'll save as much as $10,000 or more. Whether you're new to RV sales or you're ready to buy and are just looking for the best used motorhome you can find, you can stop your search here. Pedata RV Center is ready to assist you. When it comes to an RV for sale, we are the experts and we want you to walk away satisfied with your purchase and your experience!
Pedata RV works very hard to make sure all the information provided on this website is accurate; however, different products, descriptions, promotion programs and services may change at any time from those listed on this site. All advertised promotional discounted rates and payments can change without notice, and applicants must be accepted by the funding bank, which typically includes, but is not limited to, high scores, debt to income ratio, down payment and loan value. All of our prices listed on this site are subject to change without notice, and do not include tax and other applicable fees. All technical data, product information, program information, photographs and illustrations are intended to be useful information available to Pedata RV at the time of posting, and are subject to change without notice. The RVs on this site may be staged with various props for display purposes only that may not be included with the purchase.
To verify current information, call us toll free at
888-973-3282
or
520-623-6387

HOME OF THE LIVE VIRTUAL TOUR
Be sure, be safe! Schedule your
virtual tour today.

Skip to content