New and Used Class C RV for Sale at Pedata RV Center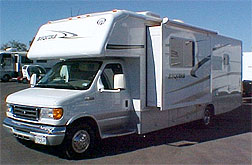 At Pedata RV Center, we sell recreational vehicles of all kinds, including travel trailers, fifth wheels, diesel pushers, campers and motorhomes. Because of the remarkable number of RVs we purchase each year, we are able to pass the low costs on to our customers, saving them thousands of dollars. Each of the RVs that we buy are in immaculate condition, and must pass through the hands of our RV technicians to be sure that all the components are in excellent working order. In other words, buying a used RV from Pedata is like getting a new RV at a fraction of the cost.
One of the most popular RVs that we sell is the class C RV. This is what many travelers consider to be the "middle of the road" size motorhome. It is smaller than its larger cousin, the class A, and is larger than the class B van conversions. It is built on a truck or van chassis and is distinguishable by the cab overhang sleeping quarters. It is very easy to drive, almost like driving a large van or pickup truck. The class C can comfortably sleep up to seven people (depending on what size you are in), and will accommodate an amazing amount of cargo. The interior of the class C is very spacious. There is a full kitchen with a sink, stove and refrigerator. There is also a complete bathroom with a flushing toilet and a full-size shower. Typically there are sleeping quarters above the cab, as well as in the bedroom, and a fold down bed in the kitchen where the dining table is located.
Some of the advantages to the class C RV are that it costs much less than a class A, and is much more fuel efficient, saving you hundreds of dollars on gasoline. It has nearly as much storage as the class A, and way more storage than the smaller class B conversion van. It is easy to drive in crowded parking lots, and easy to park in an RV slot. Highway driving is very smooth, and visibility is high, providing a safer trip.
To get a better idea of what a class C RV looks like, browse our extensive inventory online, or you can even come visit us in person if you are in or near Tucson, Arizona. We offer virtual tours online of each of the units we post for sale. There are also a great number of photographs, depicting the inside and the outside of the coach. Any of our helpful staff will be happy to assist you should you have any questions. We know that if you have a need or a want for an RV, we can find you the best unit at the best price.
You owe it to yourself to shop and compare.
You will see Pedata has the best prices and customer service around.
Don't make a $10,000 mistake shopping elsewhere.
Click here to view our motorhomes and RV sales pricing.


Pedata RV Sales | RV Consignment | RV Rentals | RV Information | RV Testimonials
About Pedata RV Center | FAQ About Pedata RV Center | RV News | RV Blog | RV Site Map | Sold RVs
Privacy Statement | Contact Pedata RV Center

To verify current information, call Toll Free 888-973-3282 or 520-623-6387 | Fax 520-623-9682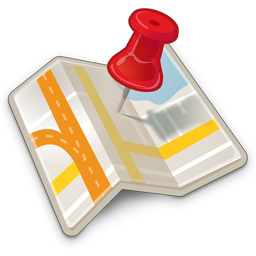 Administration, Rental & Service · 5151 S. Julian Drive · Tucson, AZ 85706

Copyright © Pedata Resales, Inc.